Lythe | Lyla Storm
Dec 19, 2014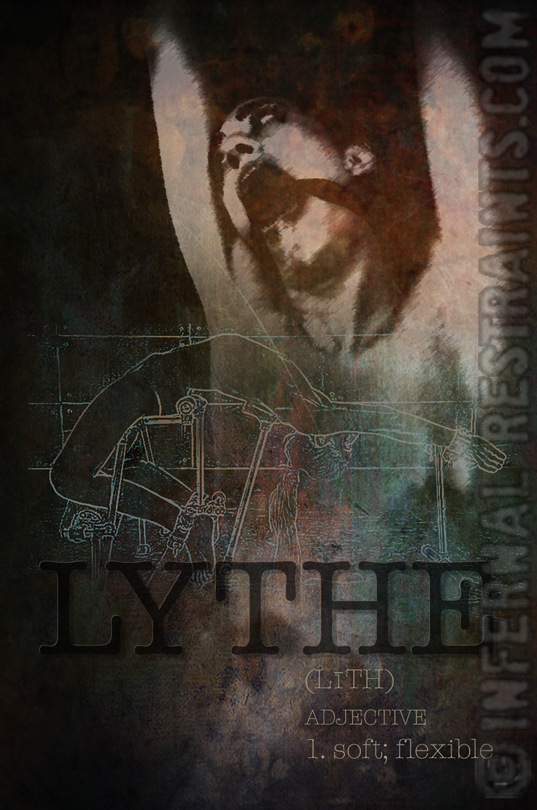 Lyla Storm is such a sweet talker. She knows just how to butter us up. We ask the obvious question, "Why'd you come to us?" Her answer is perfect. "You aren't afraid to do do new, scary things." We certainly aren't. We have a lot of fun things in store for her. She says it herself, bondage orgasms are just better. We're letting her do a lot of talking now because once we get started she'll be limited to grunts, moans, and screams, all through a gag.

She's flexible, both of body and mind. She instantly falls into subspace and don't put up any real resistance when the hurting starts. We're able to bend her over backward, spread her legs wide, and push her body to the limits with rough bondage, tough positions, and harsh corporal punishment.

There is a lot going on. She said one of the best parts of BDSM was the feeling of having an orgasm through all of the pain and distractions. She will have the chance to try it out. One thing is for certain, though, after everything she goes through today she is going to be gasping for air.

Stunning Lyla Storm belt bound
and ANALLY pounded, brutally
messy deepthroat, squirting
orgasm! | Lyla Storm | Matt Williams | Jack Hammer


Dec 16, 2014




Bendy slut bound and assfucked, anally fingerbanged to squirting orgasm

In the third and final part of Lyla Storm's live BaRS show, it is all about the ass. We have used her amazing mouth and tight pussy, it is time to take a crack at that flawless ass. Bound with belts in a classic fuck me position, her perfectly pedicured toes point up to the ceiling and her mouth hangs over the edge of the table. Both ends are wide open and ready for use.

And use them we do. We sink home balls deep into that endlessly impressive mouth as another cock steps up and takes the other side. Lyla is turned into the sexy meat in a cock sandwich. Her makeup was long ago wrecked and as she is punishingly facefucked it becomes ever more destroyed. Drool covers her sex glazed face.

10 inches of BBC sink into that ass as Lyla moans gratefully. The bondage keeps her firmly in place and all she can do is wiggle like a cat in heat. Her perfect bubblebutt eats up every inch of the cock as she cums hard, over and over. All the while she is firmly spit roasted with another one in her messy mouth. Not content, we fingerbang her ass until she unleashes a squirting orgasm.

Lyla lies limply in her bondage, completely destroyed and lolling in her own juices. If there ever was a girl that craves destruction by cock, it is this girl. And we love her for it.
Hot Hispanic Lyla Storm gags
on 10 inch BBC while bound to
fucking machine, epic
deepthroat! | Lyla Storm
Dec 9, 2014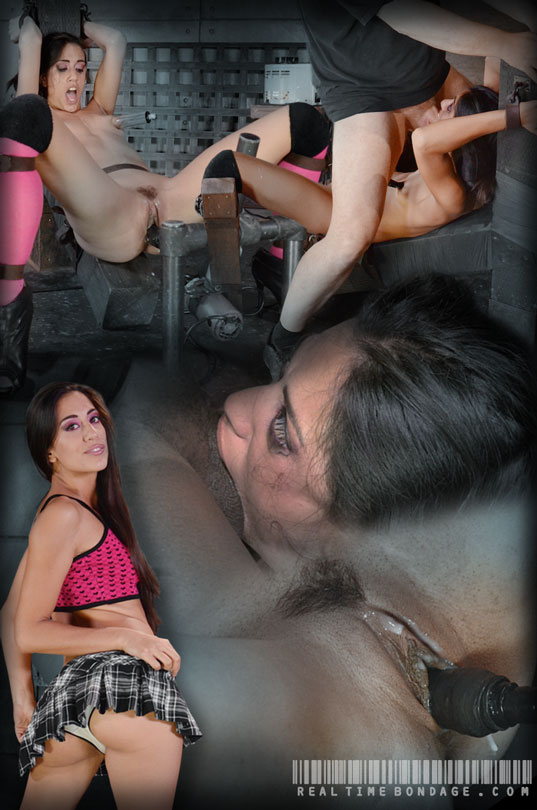 Sexy little Lyla Storm. What a messy and dirty slut this one is. She is here today to be utterly destroyed by dick in the fast paced action that is a BaRS live show. We have already pounded out her throat until it became custom fitted, now it is time to test just how good she is at multitasking. Most girls can not suck dick well while their pussy is getting pounded. But Lyla is not most girls.

Bound with belts onto our handy fucking machine, Lyla's lean legs are spread wide open and a powerful fucking machine is bolted into place deep inside that tight cunt. Some suction tubes on those puffy nipples are the cherry on top, providing just enough pain to keep her focused. Then we simply walk right up and nail her face with dick. The wooden post behind her makes it impossible to move her head away from the cock, there is no cheating here.

The drool and delightful gurgles that come out of those blowjob lips are music to our ears. The dicks run a train on her face, tag teaming back and forth as the fucking machine works its own special magic down below. Today is about overloading this cunt however, and we add in a vibrator to the mix. Lyla responds by losing her mind, her shrieks echoing off of the walls.

This is only the second position and our wrecked starlet's brain is already melted. There is some pounding anal in Lyla's very near future. It was extremely impressive how much of that giant cock Lyla got down her throat, can her ass do as good a job? Stay tuned to find out...
Sexy Latina Lyla Storm bound,
vibrated to screaming orgasm
and brutally deepthroated by
BBC! | Lyla Storm | Matt Williams | Jack Hammer


Dec 2, 2014




Tight toned Latina bound with belts and facefucked by two hard cocks into a drooling mess

They don't come much hotter or more eager then Lyla Storm. Only the nastiest and freakiest of porn sluts qualify to attempt a live BaRS show. Lyla most definitely qualifies. The utter abandon with which she flings herself on the dick is a beautiful sight to behold and why we keep inviting her back. Today is about putting this cock slut through her paces until she is completely destroyed.

Live BaRS shows are relentless and fast paced, without ever letting up or slowing down until our starlet is reduced to a puddle of twitching well fucked flesh. In part one of our show, Lyla starts off blindfolded and cuffed to a chair. Her huge mouth is open wide and her pink tongue juts out, signaling her desire for the dick. We oblige by relentlessly pouring the cock down her throat. As we are facefucking her, we have her multitask by stripping while still handcuffed.

Once her skirt and panties are off, we move her onto a slanted board and bind her down with belts. The board is at the perfect angle to open up Lyla's throat and we take full advantage of that fact, passing her skull back and forth on the two hard cocks like a game of tetherball. The drool pours forth and Lyla's makeup is destroyed. When makeup meets dick, dick always wins.

Time to overload our starlet. We add a vibrator to Lyla's bound and tightly restrained cunt and she cums fiercely, gratefully. The bondage, orgasms and deepthroating do the trick as Lyla is blasted into sexual subspace. She is delirious and loopy, a huge grin plastered across her messy face. Ok, enough warm up, time for the real action to start...
Sexy brunette Lyla Storm
strictly restrained in stocks
and mercilessly throat trained
by 2 cocks! | Lyla Storm | Matt Williams | Jack Hammer


Oct 13, 2014




Bendy Latina stuck in stocks in brutal back arch and throat trained without mercy

We love Lyla Storm around here at Sexuallybroken. Yes we do. Her utter dedication to the dick is second to none. Every time you throw a cock in front of her she jumps on it like a starving person would go after food. She does not hold back, she gives every bit of herself to the cock. Lyla is the sort of girl Sexuallybroken was made for, and we love her for that fact.

Stuck in stocks in a brutal back arch that strains her long lean body to the max, Lyla's amazing bubblebutt is perfectly displayed. A vibrator is bolted down between those thin thighs. The strict device bondage ensures that she can not wiggle away or escape her fate, all she can do is take the skull fucking that is in store for her.

One after another, rock hard cocks walk up and make full use of that face pussy that is at perfect fucking height. Lyla sputters and gasps, unable to do anything but be fucked. Drool pours out of her well used throat as her eyes glaze over. The relentless dick blasted Lyla into subspace as the vibrator buzzes orgasm after orgasm out of that flawless cunt.

You can see Lyla check out. The pretty porn star is gone. Bye bye. What is left is a pure honest sexual animal that moans and twitches in the relentless wooden bondage. The vibrator is never going to get tired. The machine will win against tender flesh every single time. We leave the remains of our porn star drooling in her bondage. Always a pleasure my dear...